Collection: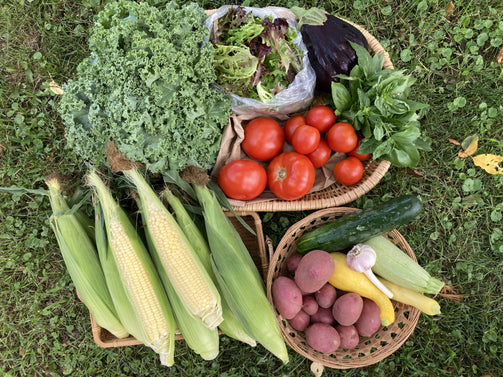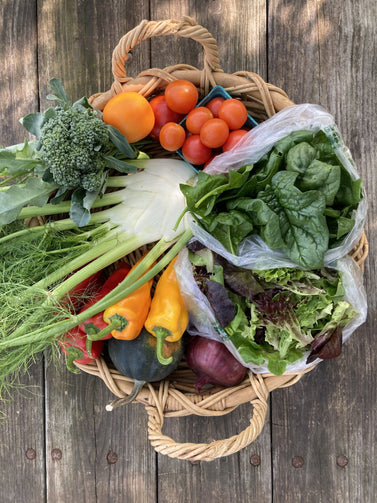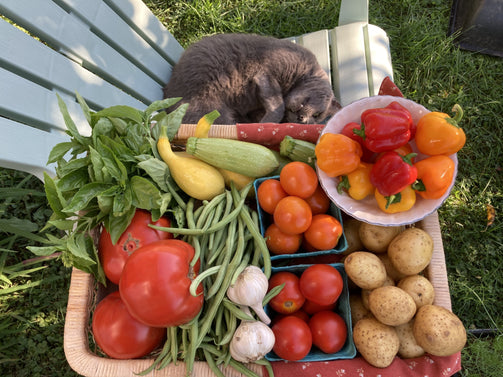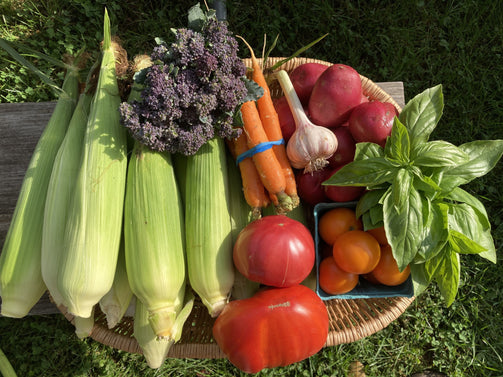 Collection:
Summer Share 2024
Summer Share 2024
Regular price

Sale price

$369.00
12 weeks of produce from June - August grown by Turkey River Farm & our partners!

CSA members should expect a mix of approximately 6-10 seasonal vegetables each week, with greens, root vegetables and fresh herbs in almost every share. ​Expect a regular supply of staple vegetables like lettuce, spinach, beets, peas, carrots, radishes in the early weeks and cucumbers, summer squash, potatoes, tomatoes, and onions in the height of the season.​ You can also expect to try some uncommon vegetables, such as kohlrabi, edamame, and Asian greens. The last pickups of the summer will contain plenty of storage crops -- like potatoes, onions, carrots, beets and winter squash -- to stock up your pantry for autumn.
Below is a sample of what might be included in a typical Summer CSA Share for the months of June, July and August:
| | | |
| --- | --- | --- |
|  June | July | August |
| Head lettuce, radishes, salad turnips, kohlrabi, broccoli, sugar snap peas, carrots, arugula, spring onions, dill | Beets, cucumbers, summer squash, sweet snacking peppers, mixed heirloom slicing tomatoes, green beans, fresh onions, kale, basil | Garlic, potatoes, storage onions, carrots, beets, roma tomatoes cabbage, rosemary, lettuce mix |
🥦 Farm Share $369: you pickup an insulated tote bag of veggies from Turkey River Farm (23719 Hazel Rd, Elkport IA 52044) on Mondays June through August between 4:30 and 6:30pm (pickup day will move to Tuesdays for Memorial Day and 4th of July)
🥦 Delivery Share $441: we deliver veggies to your door in an insulated tote bag on Thursday afternoons. Delivery available throughout Clayton County, with a remote pick-up location at By the Spoonful in McGregor for Prairie du Chien, Marquette and McGregor members, and a pickup location at Yoga Nook in Manchester. 
🥦 Half Shares! For smaller families or smaller appetites. Biweekly pickup and delivery from May-September. $232 for pickup at the farm or $268 for delivery. 
----
Signing up for a CSA share is a two-step process.
First, add your share to your cart and checkout, following the instructions to pay with credit through the online store OR select "COD" to save us the credit card fees and pay with cash/check. Next, you'll receive a confirmation email with Turkey River Farm's membership agreement form. Please complete and submit the form and you'll be ready for veggies!
----
Still wondering "what is a CSA anyway??" Head over here for more info.